Our Perfect 10 Mini Tugboat!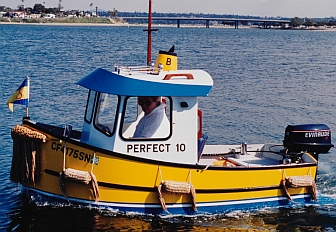 This is our adorable Perfect 10 Mini Tugboat! This boat is 10 feet long. The Perfect 10 is simple to build and is similar to our Micro 9 Tugboat. This boat has a box keel, which will bring it up to plane a bit easier. It is stable and handles superbly. The recommended power on this boat is a 15 to 20 HP outboard motor. This boat is fully trailerable and simple to launch. The plans include instructions for the trailer conversion. It is seaworthy and easy to maneuver. This boat can be built to carry 4 adults easily.
The Perfect 10 is a fun boat to drive and is sure to bring smiles to all those who see you!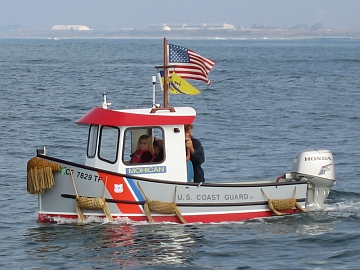 This is the "Mohican", the mini tugboat that Berkeley Eastman built as a replica in honor of the "USCGC Mohican" that he was stationed on during WWII. She is owned by the Eastman family and her home port now is Lake Havasu City, Arizona.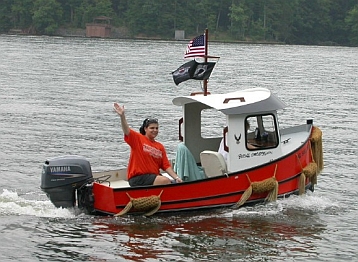 This little beauty is a Perfect 10 built by Berk Eastman for his daughter, Lynn. She is Lynn's pride and joy and is named "Berk's Obesession". Her home is in Fayetteville, North Carolina.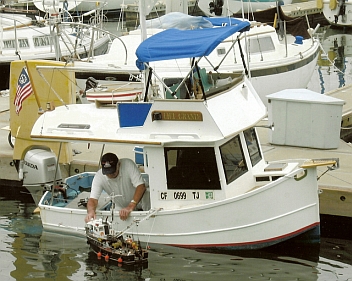 This Perfect 10 is owned by Bill Smith, of Oceanside, California. Bill was Berkeley Eastman's closest friend for many years. Bill made his little tug, "Lil Grand" into a replica of a trawler. You may be able to see his smaller replica of the "Lil Grand" on the roof. He also has a mannequin named 'Freddie' that he sits up on top, and it appears that Freddie is the one at the controls, driving the boat! Needless to say, Freddie and Bill get a lot of second looks and laughter when they cruise the harbor! As you can see, you are limited only by your own imagination when you build your boat!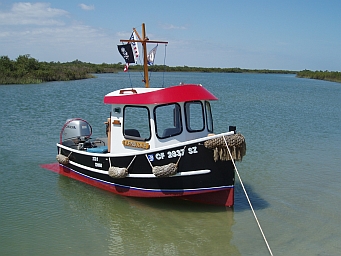 This little cutie is a Perfect 10 is owned by Ted Fuller, CMC, US Coast Guard. She was built by Ted with Berk putting in his 2 cents, as he was prone to do! The boat was painted in the colors of the US Coast Guard, however now she has changed her colors and is named "Turnbuckle". They are currently stationed in Florida, but will be moving to San Francisco shortly. Ted is going to write us a brief history of the boat, his relationship with Berk, and their common love of the Coast Guard. We are looking forward to that!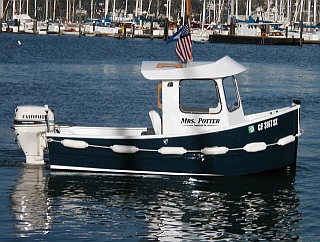 This Perfect 10 is named "Mrs. Potter". She is owned by Burr Purnell of Sausalito, California. She was launched in Sausalito, CA on April 21 2001. Unfortunately since having two kids and buying a house Mrs. Potter has gone largely unused for the past few years, except for the hoards of 3 1/2 year olds that climb aboard her and play pirate in the back yard during play group! Hopefully the Purnells will be able to get the lovely "Mrs. Potter" back out on the water soon!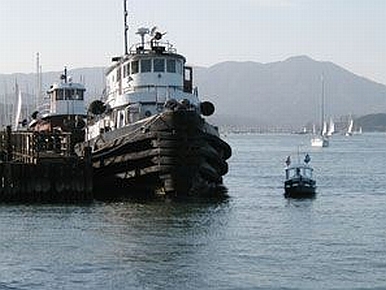 Here is the curious Mrs. Potter, seeing how large she will be when she grows up!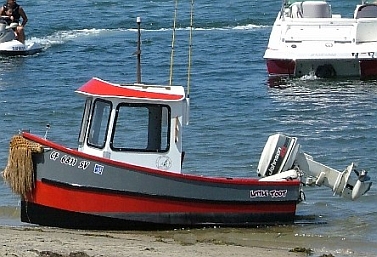 This little cutie, named "Little Toot" is owned by Steve Wood who resides in Vista, California. He is currently considering selling her. He also is interested in a trade for a motorhome or a houseboat. If you would like information on this Perfect 10 please click here: Email Susie




This is the specification sheet for the Perfect 10, our 10 foot mini tugboat. You may right click on the image with your mouse, save to your computer, and then be able to enlarge it to see better detail.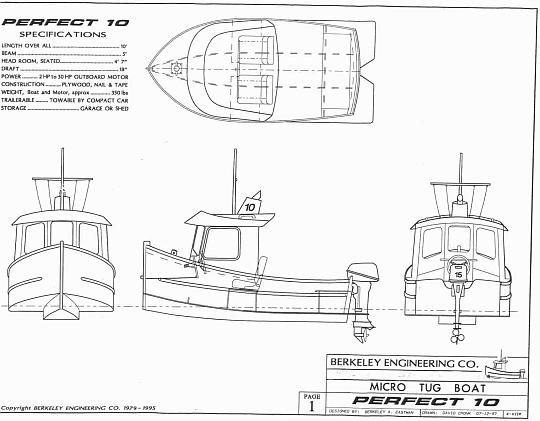 You can click on either of the 2 links below to see the building processes! One builder is Kurt Wolhuter in Florida. He built a stunning boat, the Lil Slugger.
Our other builder is Ron Carter, and he is stretching a Perfect 10 to 13 feet! Check both of them out!

Building a Perfect 10

Building a "Perfect 13" (scroll down the page to Ron Carter when you get there!



«Should you need more information before you order your set of plans for this boat, you can click on our , Order Page and order a Mini Tugboat information packet. This will give you information on all 4 of our mini tugboats and help you decide which one you would like to build! You may ALSO use the same link to go ahead and IMMEDIATELY place your order for your set of plans for the Perfect 10!

Access our new FACEBOOK Page for Mini Tugboats! You can now upload photos and participate in discussions!