Our Micro 9 Tugboat! The Little Boat For Everyone!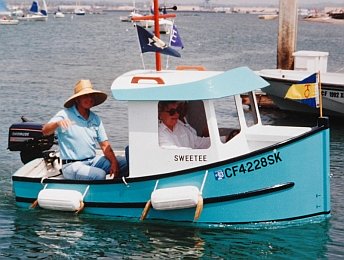 This is a perfect example of our Micro 9 tugboat! This one is called "Sweetee", and she was built by Berkeley Eastman. These boats are 9 feet in length. They are simple to build, even for someone with limited skills. The average time to build this boat is approximately 130 hours, and it can be completed for approximately $800, excluding the motor, controls and trailer. It is completely trailerable and the plans include the conversion instructions for the trailer. Launching can be accomplished easily in just a few minutes from start to finish. There is ample headroom inside the cabin for 2 6'4" people.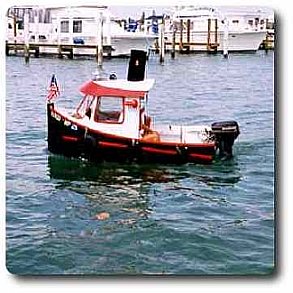 This fun little boat is called "I Think I Can". She is 9 feet in length. As you can see, there are a variety of different ways to "personalize" your boat!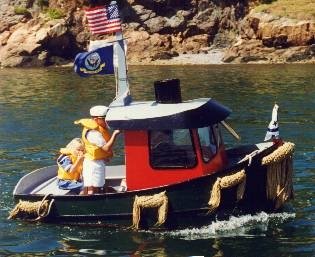 This cute little 9 foot tugboat is called "Bump"! She was built by Dick Fowles of Marblehead, Massachusetts. These little boats are stable and will seat 2 adults and 2 children.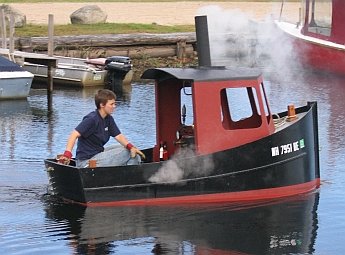 This is a really cute Micro 9 owned by Robin Weeks, of Moultonborough, New Hampshire! Her name is "Minnie Tug" and Robin says "I bought the hull all built and took out the front seats to make room for a boiler and small marine steam engine. I also had to modify the bottom of the hull to make room for a prop." Great job, Robin! This gives everyone another idea for their power options!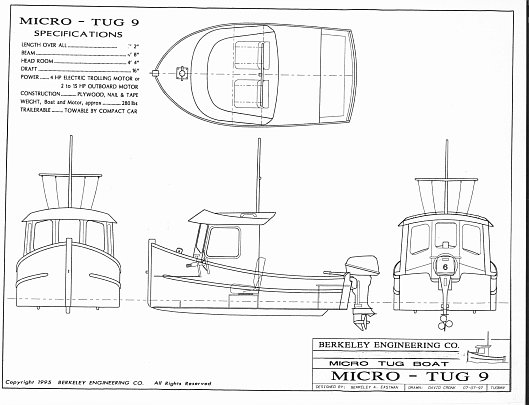 These are the specifications for the Micro Tug 9. You can right click your mouse on the image, save it to your computer, and then be able to enlarge it so that you can read it a bit better.
«If you want more information on this tugboat before ordering the complete set of plans, you can click on our Order Page and order an Information Packet. It will give you information about all 4 of our tugboats, along with the specification sheets on each one. You may ALSO use the same link to go ahead and IMMEDIATELY place your order for your own set of plans for the Micro 9!

Access our new FACEBOOK Page for Mini Tugboats! You can now upload photos and participate in discussions!