Hey, that's my Dad!!

September 21st, 2007

Mike Twohig lives on Long Island's North Fork in the historic maritime village of Greenport, New York. He built the mini-tug "Drummer Hoff" in his driveway and now plies the waters of Greenport harbor turning heads wherever he goes. Drummer Hoff can be found at the dock at Brewer's Yacht Yard, cruising past Preston's or tied to the float at Claudio's for happy hour…Drummer Hoff was built from plans by designer Berkeley Eastman. Mini-tug plans can be found at: www.berkeley-engineering.com

Click here to see Dan Twohig's terrific maritime website, Monster Maritime



The following is the article about Mike that was published in the New York Times!

September 20, 2007, 10:35 am

He Built His Own Version of Little Toot By Corey Kilgannon (The New York Times)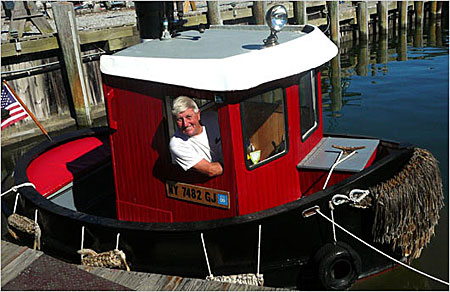 Mike Twohig at the helm of Drummer Hoff, his homemade Lilliputian tug boat. (Photo: Corey Kilgannon/The New York Times) "You know the way some guys want race cars, or antique cars? Well, I always wanted a tug boat."
So said Mike Twohig, 75, yesterday as he showed off his miniature tug boat at a marina in Greenport, N.Y., near the tip of Long Island's North Fork.
It looks like something you'd see steaming through New York Harbor 50 years ago, but it's only 16 feet long and tools around Sterling Basin in Greenport.
With its black hull, red cabin and white roof, it looks like Little Toot. It has the classic tugboat shape — wide rounded stern and high muscular pointed bow – and is accessorized with miniature bumpers made of woven rope and a shaggy dressing over the lip of the bow, called a bow puddin'.
Mr. Twohig named the boat the "Drummer Hoff," a character from a children's book he enjoys reading to his grandchildren.
"I can push boats around for friends and stuff, but it's really just for show," he said, motoring through the basin on Wednesday. The boat has a quiet four-cylinder, 30 horsepower sailboat engine, and although the hull looks like steel, it is really plywood coated with fiberglass on both sides and painted a glossy black.
Mr. Twohig, a retired gym teacher from North Babylon High School, now lives in Greenport. He comes from a long line of Irish sailors and is commodore of the Triangle Yacht Club and has always been handy, but had no boat-building experience.
"I started it in 1990 and built it in the driveway. It took me three years, and I'm talking 40 hours a week, most of the time," he said. "But it only cost me about $3,000 in materials."
"I kept bringing home these ads for used tugs with high prices," he said. "So my wife said, 'You want one, you better build it yourself.' Then my daughter said I should build for my grandkids one of those sandboxes that look like a tugboat. Instead I built the real thing. I got plans for 58-foot tug and then reduced it all to one-quarter size and built it to-scale. Well not everything. I had to keep the wheelhouse tall enough to walk into."
He was standing in the wheelhouse steering the tug with its miniature steering wheel. It even throws a mini-wake behind it, so as to not upset the many moored boats in the harbor.
For the exhaust pipe, he used a muffler from an MG-Midget sports car and ran it vertically up the rear of the cabin, protected by a wide plastic plumbing pipe that gives it the look of a real smoke stack. The fixtures are brass and vintage, including working dials, portholes and a real steam whistle that works (He also has a tractor trailer's air horn for backup).
If any other members have ANYTHING newsworthy please submit to: Little Bitts Newsmakers Submission
Access our new FACEBOOK Page for Mini Tugboats! You can now upload photos and participate in discussions!