Our Candu E-Z, The Most Loved of the Mini Tugboats!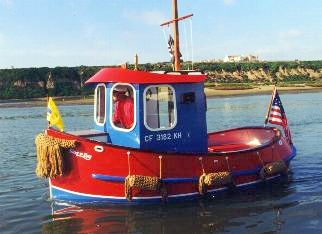 This is a Candu E-Z! This little beauty's name is "Toot N Tug". She was built by Roger Balling of Santa Ana, California. This is the boat that started it all! This has the classic salty look of a full-sized tugboat. This is a family boat, 14'3" in length, that can carry 3-5 people and is capable of sleeping 2 aboard overnight! The original design features a 10 HP electric motor which cruises at about 5 MPH. It is clean and safe, no fumes, no noise, no fuel, no vibration! It is fully trailerable and the plans come complete with the instructions for the trailer conversion.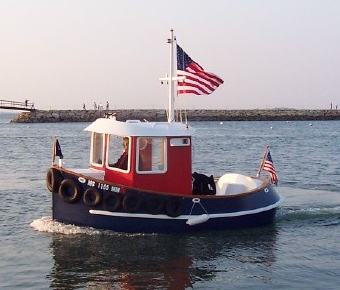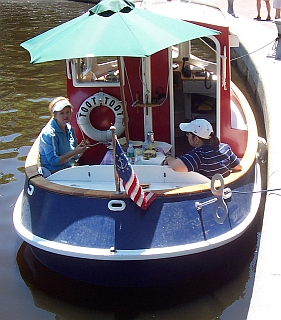 The 2 photos above are of the "Toot Toot"! She belongs to Owner-Builder Mike Magnant and his lovely wife Louise of Carver, Massachusetts. Mike is a member of our Little Bitts group. "Toot Toot" frequents the Charles River and Boston Harbor ("Haba" to you with the accents!) You can see the fun that you can have personalizing this boat! Mike wrote us and said:" Many people like the way I finished off the back of the boat to hide the outboard motor and create some nice seats in the process. The outboard is not visible and now that I have put on the big wind up key, some people believe that it truly is a wind up boat. What a riot!!! If you receive any questions from anyone about construction or performance on the East coast, especially in the Ma, RI, NH area, I would be glad to arrange meeting them somewhere convenient with Toot Toot." Viewers can see the key in the lower of the two photos.
« Berk always said "It's the most fun you can have in public without getting arrested"!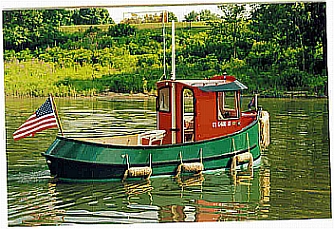 This handsome mini tugboat is the "Chug-a-Doug", named after it's Owner-Builder(and member of our Little Bitts group) Doug Crocker, of Glastonbury, Connecticut. This is a Candu E-Z stretched to 16 feet!
As you can see, there are MANY things that you can do with our designs...the only limits are the ones that you put on yourself!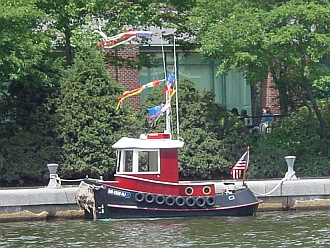 This beauty was formerly named the "Atlantic Hunter" and has now been renamed "Patriot". She is owned by Ray Verner of New Jersey. Ray recently purchased the boat from Captain Ben Grudinskas of Massachusetts and is a member of our Little Bitts group. This photo was taken in Boston.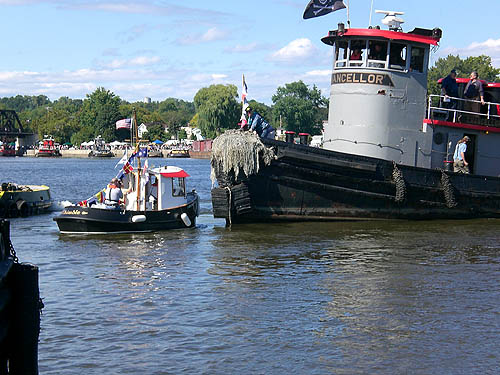 This little tug is named "Thimble". She is owned by Tom and Gail Venezio, of New York, members of our Little Bitts group. This is a quote from Tom: "My wife, Gail, and I built a CanduEZ back in 2001. Our tug, Thimble, has been a real pleasure to run and is always drawing attention no matter where we go. We stretched it to 16' when we built her. Gail and I are also very active in the Coast Guard Auxiliary so, we offered Thimble as an Operational Facility. Believe it or not, we have actually used her for patrols."

Click on the link below to open the 'Travels of Tug 44, Waterford Roundup 2006'. When you get to the page, go down to Tugboats Video #16, which is called "Thimble Terrorizes Tug 8th Sea". This is great entertainment! The rest of the videos are wonderful, too!

See more "Thimble" photos and a video of the push-off!
"Every year we participate in the Tugboat Roundup in Waterford, NY which is at the confluence of the Hudson River, the Erie Canal and the Champlain Canal. One highlight of the event is a head-to-head push-off. Every year the biggest tug takes on Thimble. Fortunately they put it reverse, but it makes a great photo."-Tom Venezio
Check out the Waterford Tugboat Roundup Website!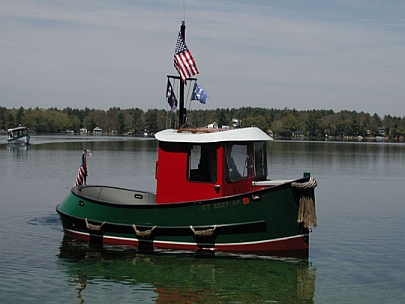 This gorgeous new tug is a 15 foot aluminum tug, built by John Dearden. He completed this boat in January, 2009. John kept a record of his building process on this boat. You can click on the link below the photo to be taken through the process of the build. The workmanship on this is absolutely amazing, and we thank John for sharing with us. Here is a quote:
Hi Susie,
Well, we finally got our Candu-Ez minitug finished partly due to work slowing down somewhat. Sea trials went well the other day; we were impressed with performance and manuverability. If you check our web page http://www.deardenmarine.com/Mini-tug-Dearden-Marine-Custom-Design.htm for this project you will see some finished photos of her and also a short video clip on U-tube of her under way.
She is now for sale if you here of anyone looking for a very rugged minitug.
All the best,John.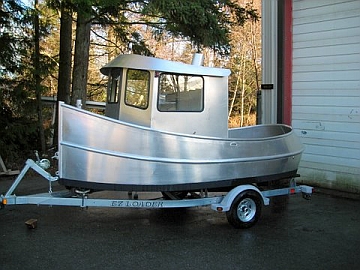 See the building process of this gorgeous tug!


This beautiful little Candu E-Z is owned by Little Bitts member Ellsworth Williams of Noank, Connecticut. She is named "Frolic".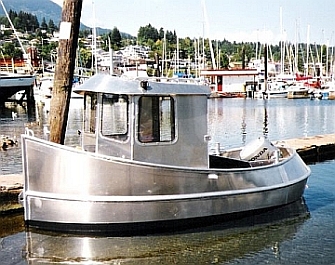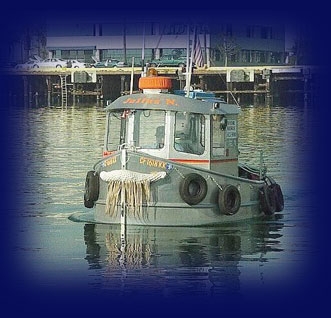 The two photos above are of the same mini tugboat. This is an exciting option for the Candu E-Z. This stunning mini tugboat named "Julius" is built of aluminum! This boat was built by Dearden Marine for a client in California. The specs and explanation follows:
Designer Berkley Eastman, Berkley Engineering Co. design- Candu E-Z
Length 14 feet 3 inches- Beam 7 feet 4 inches- Draft 1 foor 8 inches- Launched 1998- Displacement 1150 lbs
"This is an interesting vessel that we built for a California client and was used as a serious tug for towing oil spill booms and general small towing jobs".-John Dearden, Owner, Dearden Marine
Dearden Marine also built a Candu Jr. The Dearden Marine website is really exciting to look at! Their work is beautiful, and we know that you will enjoy this link thoroughly.

Link here to see the Dearden Marine website!



The following photo is of Clint Skelton's "Little Toot". She was built in Spain and was recently photographed tooling around the harbor in the UK! You can see the building of the "Little Toot" by clicking the following link: Building of Little Toot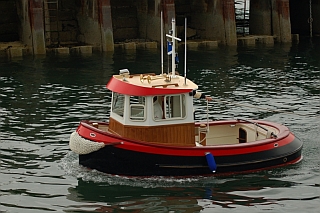 The following is a link to a website done by Terry. He takes you through his building diary and has done the site complete with photos of the in-process building, and links to other mini tugboats! We are sure that you will enjoy it very much!

Click Here to See A Candu E-Z Being Built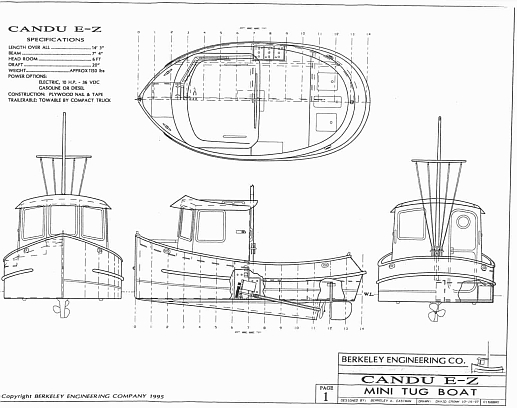 This is the specification page for the Candu E-Z. This tug, if powered by an electric motor, will cruise silently and effortlessly all day! It turns on a dime due to it's huge barn-door rudder. You may right click on this image with your mouse, save it to your computer, and then be able to enlarge it to see closer detail.
This boat is simple to launch and retrieve. The ride and handling are superb! And, you can imagine the smiles you will bring to all around you!
«If you are having trouble choosing which boat to build, click on our Order Page and order a Mini Tugboat information packet. This will give you information on all 4 of our tugboats and plans, and help you decide which boat is for you! You may ALSO use the same link above to IMMEDIATELY place your order for your set of plans for the Candu E-Z!
Access our new FACEBOOK Page for Mini Tugboats! You can now upload photos and participate in discussions!