Choose YOUR Tug From One of Our 4 Sets of Mini Tugboat Plans!
There are four separate models of our mini tugboat plans to choose from. These boats have all been designed for the first time boat builder. There are no exotic or hard-to-find products or expensive materials used on our boats. They are made of plywood with fiberglass cloth and resin. There are no frames or molds needed, nor any lofting. They can be built in a minimal amount of time.
Each of our tugboats are trailerable. The simple plans for trailer conversions to fit your boat are included in each set of plans.
Our boat plans come with complete instructions on outfitting them with an electric motor or a gasoline powered outboard. Some of the builders in the past have designed their own diesel powered engines and several have also installed inboard engines.
As Berk said of these boats, "IT'S THE MOST FUN YOU CAN HAVE IN PUBLIC WITHOUT GETTING ARRESTED!"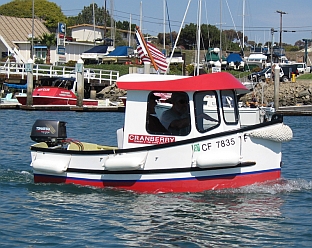 The above picture is our "Cranberry", which is our smallest boat, the Micro-9. This boat belongs to the Eastman family and is kept in Oceanside Harbor, Oceanside, California, as the tender to the family's Cape Codder.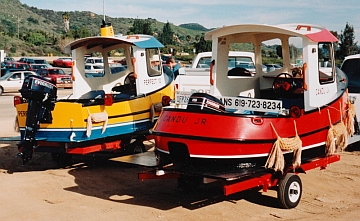 This is an example of our Perfect 10 and a Candu Junior, both built by Berkeley Eastman, showing the trailers, also.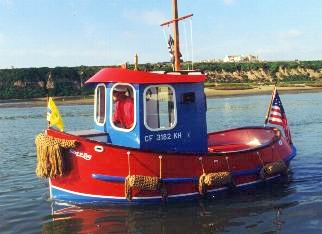 This photo is of our Candu E-Z, which also happens to be our most popular tugboat to date! This beauty is owned by Roger Balling and is shown again on our Candu E-Z page.


See a Candu E-Z under construction!

NEW! FACEBOOK PAGE for MINI TUGBOATS!!!! Now you can upload photos and participate in discussions!!!


«If you are having trouble deciding which set of plans to purchase or which mini tugboat to build, you can click on our Order Page and order an Infomation Packet. This package tells about all 4 of the mini tugboats and comes complete with specifications on each boat. You may ALSO use the same link to go ahead and IMMEDIATELY order the set of plans for YOUR new tugboat!